Jocelin suffered many losses in her teenage years. As a grown woman, she avoids relationships like the plague because of it. However, her resolve is sorely tested as soon as a persistent Scotsman enters her life.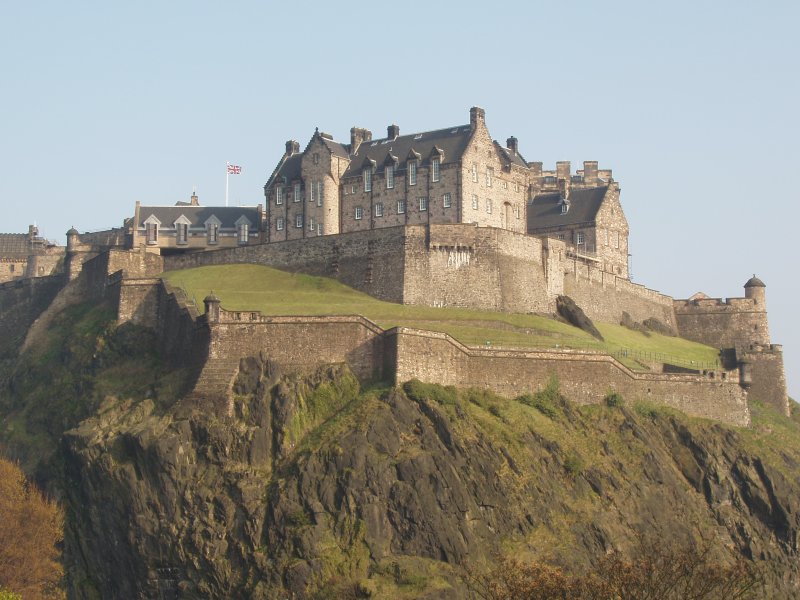 Image Source (CC BY 2.0)
He really was going to sleep! I tried to wiggle but his muscles just flexed in warning and I wasn't strong enough to get away. So, I lay there, waiting. I was wonderfully exhausted by all the amazing sex, and sleep sounded like heaven, but I was determined I was not falling asleep in his arms. That was just a little too…relationship.
The first time I ever wanted to move to Edinburgh. This is one of my favourite romance series. On their own, every single audiobook is worth listening to. But I really came to enjoy them as a series because of the complicated feelings the couples are forced to face, their struggle to find their way to each other, and especially the tight-knit family bond developing between all of them.
Jocelyn is beating herself up about the loss of her family. Her insecurity and vulnerability are hidden behind a mask of badassness. Trying her best to avoid relationships of any kinds she is drawn towards the irresistible Braiden who tries to persuade her otherwise. Between his hotness and his little sister Ellie's cheerful disposition, Jocelin finds herself caring much more than she wants to admit.
Falling in love "On Dublin Street"
Joss and Braiden meet in a cab. They are instantly attracted to each other. When Braiden turns out to be the brother of Josses new roommate, she tries her best to keep her distance. Braiden, on the other hand, tries his best to make her jealous by confronting her with gorgeous women on his arm. There's a lot of fantastic erotic suspense because of Josses denial of her attraction. In the end, she gives in to a friends-with-benefits-arrangement vowing to keep her heart out of the picture. Alas, as such things go, she isn't quite able to do that, which scares the hell out of her. Braiden is very alpha and very persistent with regards to breaking through Josses defences. And he has to try a lot before getting through. Joss is being backed into a corner again and again. The drama between the two of them was put on a little thick in the end, but between an abundance of erotic suspense and the truly hilarious banter between the couple, I really cannot complain.
The narration of "On Dublin Street"
Paula Costello is the narrator of "On Dublin Street". She does a good job of portraying Josses inner struggle as well as her outer mask of defiance. She has a neck for the male characters as well. Especially Braiden sounds hot. I appreciated the slight Scottish accent to remind me that I was listening to a Scottish romance.
The heroine of "On Dublin Street"
Joss is a cool character. She isn't into the girly stuff and always comes up with a smart reply. All the more ironic that she ends up with Ellie as a roommate who is all into romance, hearts and flowers. When she suffers panic attacks because of her unaddressed past, she decides to go to a therapist. From the outside, she seems to be without care. But inside she is fearful of relationships because of all of her losses. This is why she keeps on pushing people away. Her struggle to conceal her feelings, her involuntary involvement in her friend's lives, her panic attacks, and especially the few times her vulnerability shows, turn her into a flawed character, whom I could relate to.
Why read "On Dublin Street"
The "Scottishness" of this series is rather subtle in comparison to many of the historical romances I have reviewed so far. No lairds, plaids, or swords, I'm afraid. Instead, you'll get a modern day, alpha-male Scotsman and a strong clan-like family bond developing between the characters throughout the whole series. It is this bond that makes this series extra-ordinary. Well, and the sex. There's definitely something there, too. So, if you enjoy a plot with a predictable outcome and nonetheless complex and interesting characters, give "On Dublin Street" a shot.
How did you enjoy this novel? Comments are always appreciated.
Buy "On Dublin Street":