Claire's second honeymoon turns into the ultimate time travel saga when she enters a stone circle dropping her right into the conflict of the Jacobite Rising. Her struggle to return to her husband is not only undermined by POLITICAL INTRIGUE, but also by the braw Scot James Fraser who will turn out to be the greatest obstacle.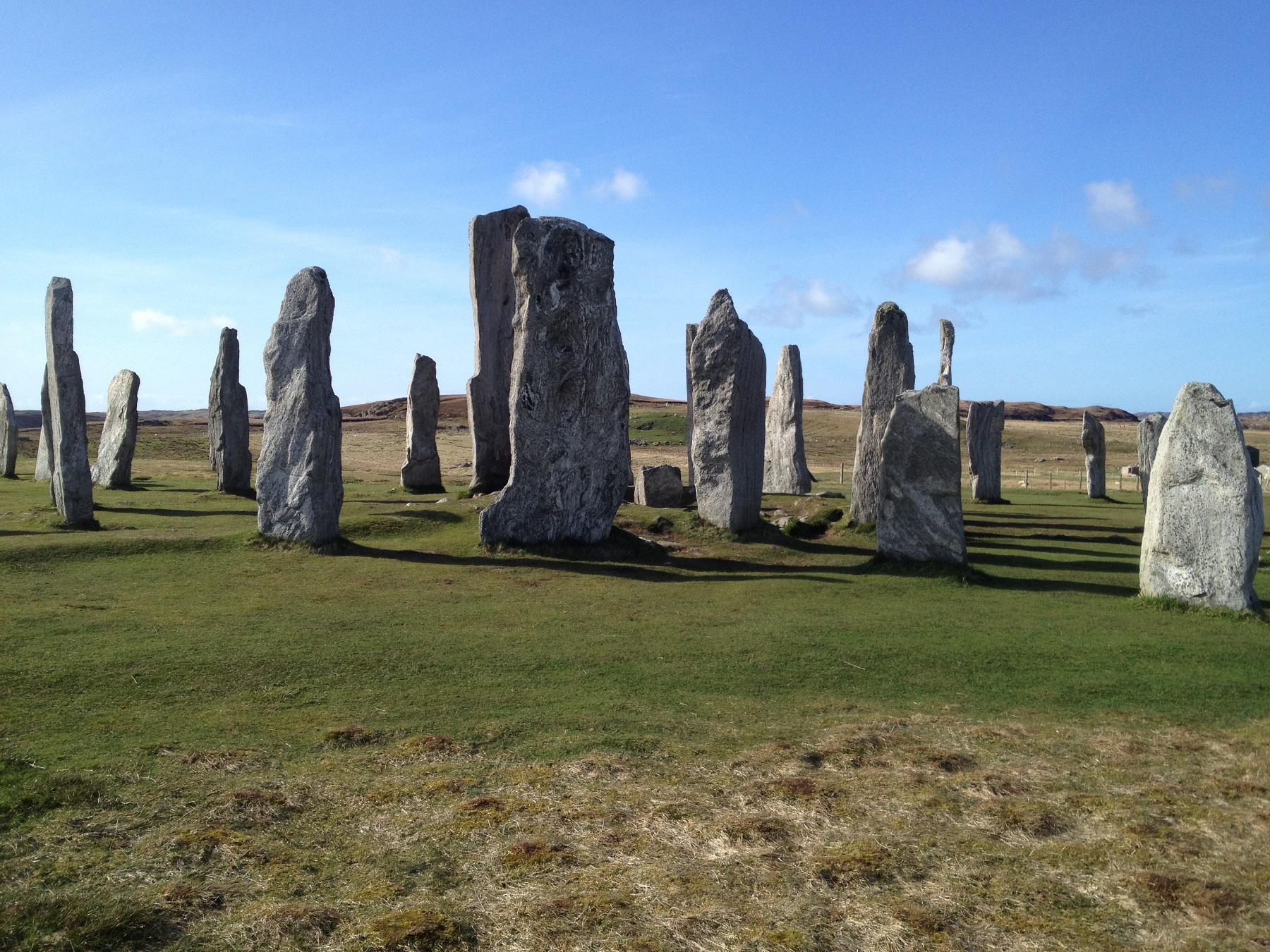 "Does it bother you that I'm not a virgin?" He hesitated a moment before answering.
"Well, no," he said slowly, "so long as it doesna bother you that I am." He grinned at my drop-jawed expression and backed toward the door.
"Reckon one of us should know what they're doing," he said.
I listened to this audiobook at Christmas a few years ago. I remember lying on my mother in law's couch, far from offering to help doing the dishes because every time I thought that I should stop something happened to the characters and I simply couldn't abide not continuing this ultimate time travel saga.
In 1945, Claire Randall is on her second honeymoon with her husband. Together, they follow the tracks of Black Jack Randall, an ancestor of her husband's to Scotland, when she discovers an ancient stone circle that throws her through time. She travels 200 years into the past ending in the time before the Jacobite Rising in 1743. There, she meets the five years younger James Fraser and is sucked into the intrigues of clan rivalries, accused of being a spy, and threatened to be killed, first by the English for being a spy, then by Scottish peasants for being a witch. Forced to marry the braw Jamie Fraser, she is soon torn between her husband from the future and her husband from the past, two times and places that are irreconcilable. At first, her decision seems easy, but having met Jamie, Claire is not so sure any more.
Loving an "Outlander"
Jamie and Claire are no fitting match right from the start. As a matter of fact, when Claire travels 200 years into the past, a love affair with a hunky man couldn't be further from her mind. I appreciated that she wasn't pining for him right from the start. Rather, they just seem to get together naturally. They simply liked each others company until Claire is threatened by the redcoat, Black Jack Randall. Jamie decides to marry her in order to keep her from being taken prisoner. Although Claire is understandably conflicted because she is strictly speaking, still married to her husband of the future. she accepts his protection. Their first time was really sweet, especially because Jamie has no experience at all. His curiosity with regards to female orgasm is so endearing, I listened to that scene over and over again.
The main obstacle is that Claire still tries to go back to her own time, thereby endangering Jamie and his kin, not to mention herself. As a punishment, Jamie has to give her a thrashing. I hated this part. Even though, he didn't enjoy it, I find his hitting Claire, whom he loves, unacceptable.
Another barrier between the couple is the villain Jack Randall. Randell fancies Jamie and has definitely a cruel streak. When Jamie is abused to the point that he wants to die, Claire is the only one capable of not only mending his bones but also restore his will to live.
Davina Porter does a beautiful job bringing the numerous characters to life. Her sophisticated British accents combined with Claire's party mouth make for a hilarious contrast. Even better than that Is her interpretation of Jamie Fraser. I believe this was the first highland audiobook narrated by a female narrator that I have listened to. She has a neck for the accent, I must say. Although her voice has a grandmotherly touch, I still managed to enjoy the steamy scenes. I definitely recommend the audiobook over the novel.
The heroine in "Outlander"
Claire has a kind of depth that is not often found in romance novels. Being a nurse, she has no qualms setting bones. She is conflicted throughout the plot, torn between her two husbands. She curses a lot is very opinionated, even for her own time, and doesn't accept being hit without a fight. It is very easy to feel with this character, also because she falls in love with a very sexy young highlander. Yet, I don't buy her easy adjustment when she is thrown into the 18th century. It seems like she simply accepts the fact that she has landed herself in a different time, and that is simply that. Even so, I enjoyed her struggling to fit the tight rules set for women of this age wearing her hair and her dress too short and not being able to keep her mouth shut. Fucking good for you!
Why read "Outlander"
800 pages or 30 hours of suspense, action, intrigues, rescuing, and falling in love might seem intimidating. There always seems to be another disaster waiting around the corner. Yet, part of the magic of Outlander lies in the astonishing historical detail and the many obstacles in the couple's way. So, I can't truly be disappointed with the length of the audiobook. There are some authors of highland romance who emphasize the couple and neglect the historical accuracy. This is not one of them. Although "Outlander" is a fantasy novel as well as a romance, it contains very detailed descriptions of the historical state of the time and the characters reaction towards the Jacobite Rising.
It's amazing that a story published in 1991 still enjoys that kind of popularity. Of course, it doesn't hurt that the novels were made into a TV series with the braw Sam Heugan featuring Jamie Fraser. But let's not forget the detailed plot and characters, the historical accuracy, and the sizzle between Jamie and Claire. If you are looking for a highland romance saga with a bonnie heroine who curses like a sailor, a big highlander with a sexy brogue and endearing humour, an evil villain, if ever there was one, lots and lots of action and nerve-racking twists, I recommend this TIME TRAVEL romance along with the whole series without regret.
Similar audiobooks
I definitely reccomend the other audiobooks of the "Outlander"-series: "Dragonfly in amber", "Voyager", "Drums of autumn", "The fiery cross", "A breath of snow and ashes", "An echo in the bone", "Written in My own heart's blood", and "Go tell The bees that I am gone". However, if you are looking for a more light-hearted and shorter version of "Outlander", check out Beyond the highland mist and Kiss of the highlander by Karen Marie Moning.